Ballbar testing provides a simple, rapid check of a CNC machine tool's positioning performance to recognised international standards (e.g. ISO, ANSI/ASME etc) allowing users to benchmark and track the performance of their machines and to quickly diagnose problems that may require maintenance and the error sources that produce them.
How does ballbar testing work?
The Renishaw QC20-W ballbar is a precision measuring instrument (capable of measuring to + or – 1um of accuracy). It collects data on axis movements when moving in a circular motion. Any deviation from a perfect circle is measured. From the collected data problems with the machine's geometry such as squareness and straightness can be determined. Also dynamic errors such as ballscrew problems, backlash, reversal spikes, servo mismatch, stick slip can also be determined.
In addition to providing a ballbar testing service and reports to I.S.O standards, (with analysis of results), we also offer a comprehensive corrective action service to bring your machine tool back to the standard you require. This can include ballscrew repair / replacement, slideway repair / regrind & backlash elimination.
Through ballbar testing we can help you:
• Accurately verify a machine's performance.
• Achieve tight manufacturing tolerances.
• Verify a new machine's accuracy at commissioning.
• Check machines after a "crash or collision" to ensure machine is able to achieve manufacturing tolerances, or to identify possible causes of machining errors.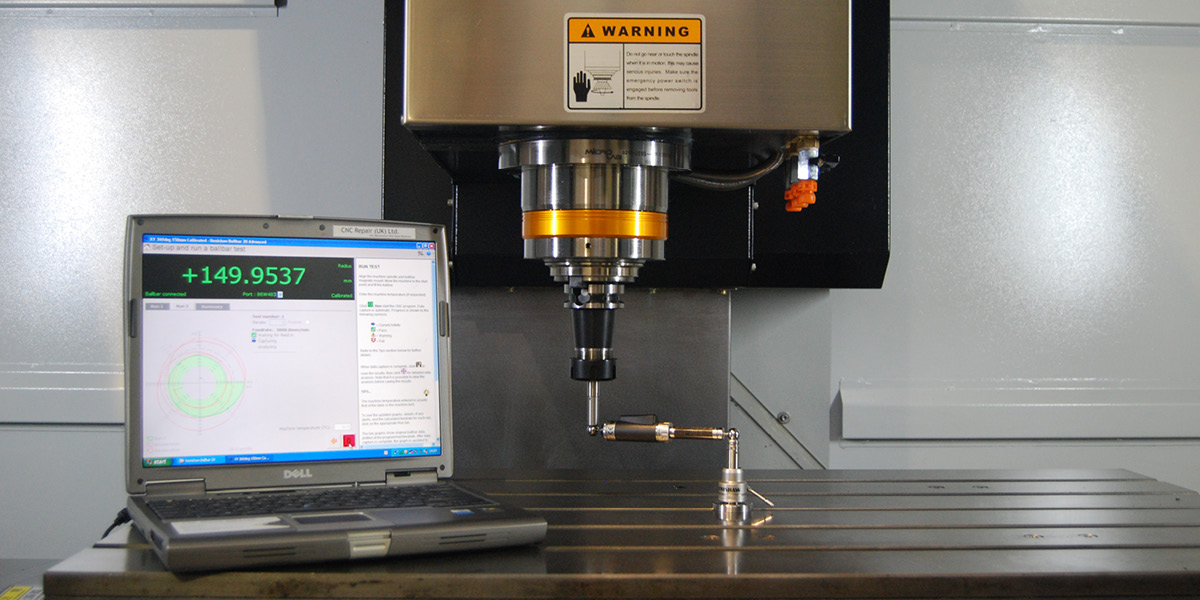 Renishaw Ballbar Testing
CALL TODAY FREEPHONE ON 0800 043 1800
We have Engineers based in the Midlands & throughout the UK supporting a wide range of companies. From small machine shops to national & global businesses. Having a track record of 96% of 'fix on the first day' makes us the natural choice for breakdown call out.




Looking For CNC Repair or CNC Machine Tool Services?
CNC Repair (UK) Ltd can provide you with an 'in house' CNC maintenance support package manning our customer's sites on both a long and short time basis.
Tel:
0800 043 1800
Email:
support@cncrepair.co.uk
CNC Repair (UK) Limited
Unit 4 Spalding Road Business Park,
Bourne,
Lincolnshire PE10 9LF
As we slowly see the easing of lockdown measures and as some businesses begin to re-emerge from...
read more
During these uncertain times, health and wellbeing are at the forefront of everyone's minds and...
read more