It's Onwards and Upwards as the Team Grows at CNC Repair (UK) Ltd
As we slowly see the easing of lockdown measures and as some businesses begin to re-emerge from months of downtime, Lincolnshire based CNC Repair (UK) Limited in Bourne is bucking this trend having found that many of its customers have experienced a flying start to quarter one; and in order to support this, CNC Repair has now expanded its team with the appointment of two new engineers.
The engineering company has been busy throughout the pandemic providing CNC machine servicing and repairs to its leading OEM customers, so the appointments of Phil Peachey and Ross Dolby will allow the company to support customers' ambitious production targets, especially within the major Automotive and Tier 1 supply chain. Phil and Ross both bring with them extensive knowledge of machine tool brands used in the Automotive industry such as Heller, Comau, MAG Boehringer, Erwin Junker, Okuma, Makino & Fanuc robotics which will certainly be put to good use in their new roles.
Phil (34) and Ross (33) have over 30 years' experience between them having both begun their working lives as Apprentices at Perkins Engines in Peterborough. Phil said; "I've worked around the world to help build and then install crankshaft manufacturing machines in the UK as well as working on robotics and various control systems, so my experience should stand me in good stead in my new role. I'm very enthusiastic and keen to satisfy customer demand and reduce downtime; whilst also learning about new machines, enhancing my overall knowledge and becoming part of the team at CNC Repair (UK) Ltd. "
This is a feeling shared by Ross who added, "I'm looking forward to working with the close-knit team at CNC Repair (UK) Ltd too and proving myself to be a strong and valuable member. This role will allow me to reach the levels I know I'm capable of whilst testing my skills on new machines that I haven't worked on previously, which is a challenge I'm thoroughly looking forward to."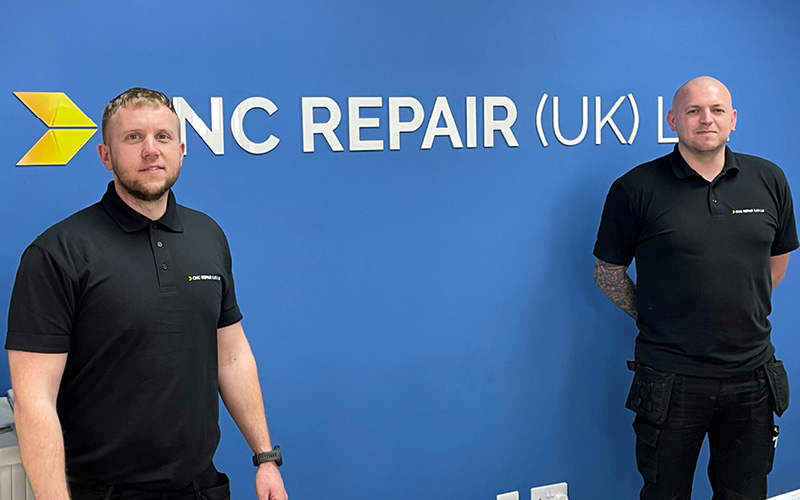 When not at work, both men share a love of the 'beautiful' game with Ross being an avid Manchester United fan and coach to an under 7's football team, whilst Phil is also a keen cyclist. Ross also puts his skills to the test on DIY projects and having renovated two houses previously, is now about to embark on his third.
Managing Director, Anthony Spencer commented; "We're delighted to welcome Phil and Ross to the expanding team at CNC Repair. Even against the backdrop of a global pandemic, many of our customers have continued to be incredibly busy and so it was vitally important for us to support them to ensure their machine tools were available to meet their ambitious production targets. Facilitating this often includes working both weekends & nights to ensure critical maintenance work is carried out with minimal impact to their production schedule.  I know with Phil and Ross's combined knowledge and experience, both will work tirelessly to support customers' requirements to ensure that this minimal impact is achieved and we're really pleased to have them on board."
CNC Repair is looking towards the future and to building its business onwards and upwards. The arrival of Phil and Ross is part of this future and customers will now benefit even more from the skills these two new additions bring to team CNC Repair.
Tel:
0800 043 1800
Email:
support@cncrepair.co.uk
CNC Repair (UK) Limited
Unit 4 Spalding Road Business Park,
Bourne,
Lincolnshire PE10 9LF
During these uncertain times, health and wellbeing are at the forefront of everyone's minds and...
read more
A customer suffered a collision on their purpose built large VMC which had resulted in damaging...
read more